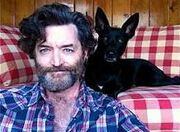 Timothy Michael Omundson is an American actor best known for his starring role in the USA network hit Psych as Detective Carlton Lassiter. He has however appeared in over sixty different productions, including lending his voice to numerous Star Wars video game titles. in 2015-6, Mr. Omundson was King Richard in the musical series Galavant. He plays the Interrogator on HT.
Ad blocker interference detected!
Wikia is a free-to-use site that makes money from advertising. We have a modified experience for viewers using ad blockers

Wikia is not accessible if you've made further modifications. Remove the custom ad blocker rule(s) and the page will load as expected.