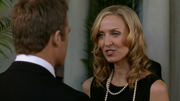 Sophie (no other name given) is one of the Russian 'greeters' for the event at the Embassy in "Embassy Row". She is the one who intercepts 'C.C. Baxter' on his way in, and asks for his ID. When this is found to be missing, she requests that he wait, and Sophie alerts Alexei Volkov and Peter Blanchard to a potential problem. She remains courteous throughout, however.
Sophie is played by Claire Smithies.
Ad blocker interference detected!
Wikia is a free-to-use site that makes money from advertising. We have a modified experience for viewers using ad blockers

Wikia is not accessible if you've made further modifications. Remove the custom ad blocker rule(s) and the page will load as expected.