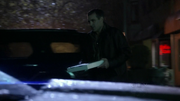 Nick Chepekian is the criminal mastermind behind the attempted killing, on Flight 234, of 'Casper' and planned theft of the Internet 'skeleton key'. Though not shown explicitly, it can be reasonably assumed he did not survive his encounter with the 'messenger' sent by Guerrero, the latter of whom was speaking to him on the phone when last he was seen.
Ad blocker interference detected!
Wikia is a free-to-use site that makes money from advertising. We have a modified experience for viewers using ad blockers

Wikia is not accessible if you've made further modifications. Remove the custom ad blocker rule(s) and the page will load as expected.