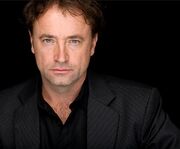 David Nykl is a Czech-born Canadian actor, whose parents were driven out of the country in the wake of the so-called "Prague Spring" (1968). He is now best known as Dr. Radek Zelenka on Stargate: Atlantis but has a total of over fifty film and television credits, including Cold Squad, Psych, Once Upon A Time and Arrow. He plays Vincent Morgan in "Rewind" on HT.
Ad blocker interference detected!
Wikia is a free-to-use site that makes money from advertising. We have a modified experience for viewers using ad blockers

Wikia is not accessible if you've made further modifications. Remove the custom ad blocker rule(s) and the page will load as expected.