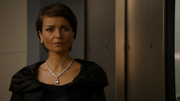 Connie Pucci is the dazzling, urbane, influential and wealthy (let's not deny it) sister-in-law of Ilsa, who descends in a cloud of Chanel, diamonds and bodyguards on her sole remaining family member in "Imbroglio". Connie is there to personally assess the situation, given the board's 'concerns'. As Marshall's sister, she represents the more conservative voices in that group, it seems.
Things degenerate rapidly when the entire audience at the opera is taken hostage, although Connie still makes a number of fairly withering remarks about Ilsa's new employees - until she sees them truly in action.
Connie is last seen implicitly accepting a date in Venice with a persistent Guerrero, although whether it was kept we shall sadly never know.
Ad blocker interference detected!
Wikia is a free-to-use site that makes money from advertising. We have a modified experience for viewers using ad blockers

Wikia is not accessible if you've made further modifications. Remove the custom ad blocker rule(s) and the page will load as expected.