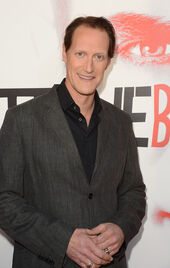 The Canadian actor, first cousin once removed of Thor Heyerdahl, plays Connor Dunham, ex-IRA bigwig, in "Victoria" on HT. His ninety-plus credits include runs on Sanctuary, True Blood and Hell on Wheels as well as a guest spot on numerous pilots and key arcs, like Psych, Stargate: Atlantis, Life As We Know It, Smallville, Castle, Gotham and Caprica. At 6' 4" he tends to play intimidating characters.
Ad blocker interference detected!
Wikia is a free-to-use site that makes money from advertising. We have a modified experience for viewers using ad blockers

Wikia is not accessible if you've made further modifications. Remove the custom ad blocker rule(s) and the page will load as expected.