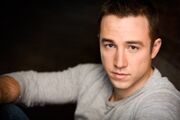 Brendon Zub is a Canadian actor whose highest profile work to date was probably in Percy Jackson & the Olympians: The Lightning Thief. He has appeared in a dozen different productions all told, up to early 2016, including The Flash pilot. On HT, in one of his earliest roles, he plays Geoff in "Rewind".
Ad blocker interference detected!
Wikia is a free-to-use site that makes money from advertising. We have a modified experience for viewers using ad blockers

Wikia is not accessible if you've made further modifications. Remove the custom ad blocker rule(s) and the page will load as expected.