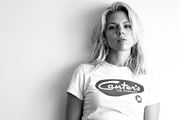 Alison Dyan Liebert is a Canadian actress who recently had a starring role on Bomb Girls. Her guest spots include Fringe, The 4400 and Psych, as well as runs on Kyle XY and Lost Girl. On HT she was Brooke Hammell, the cyber expert and hacker known as 'Casper' in "Rewind".
Ad blocker interference detected!
Wikia is a free-to-use site that makes money from advertising. We have a modified experience for viewers using ad blockers

Wikia is not accessible if you've made further modifications. Remove the custom ad blocker rule(s) and the page will load as expected.