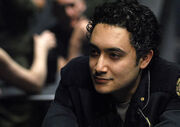 Alessandro Juliani is a Canadian actor with over seventy productions to his credit, and one of the few people to appear on Smallville and in Man of Steel (2013). His other high profile roles include Lt. Gaeta on Battlestar Galactica (2003) and the voice of Gambit in X-Men: Evolution. On HT, he plays tech guru Phil Tennant in "Rewind".
Ad blocker interference detected!
Wikia is a free-to-use site that makes money from advertising. We have a modified experience for viewers using ad blockers

Wikia is not accessible if you've made further modifications. Remove the custom ad blocker rule(s) and the page will load as expected.